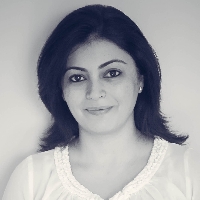 Pooja Tolani
Meditation and Mind Matters Trainer
Background
Pooja is a faculty member of the TLEX Institute teaching Meditation and breath work to executives. TLEX offers experiential and fun learning and integrated frameworks so employees can perform under high complexity through greater resiliency and agility.
Since 2001, Pooja has been traveling across the globe, delivering meditation, wellness, and stress management programs to over 10,000 people in corporate, government, university, and community environments. She has facilitated wellness seminars for Deloitte, Suncor, The City of Calgary and more with over 250,000 training man-hours. In addition to this Pooja is a trainer of meditation teachers, and helps mentor and coach new trainers.
Pooja Tolani holds a Bachelor's degree in Sociology from St. Xavier's College in Mumbai, India, a renowned college for humanitarian and philanthropic studies. An advanced teacher of yoga and meditation for over 18 years, she has found that it addresses aspects of mental, emotional and physical well-being. Pooja's teachings are inspired by the Art of Living Foundation.
Testimonial from the City of Calgary
Testimonials from past participants
1.
"Pooja Tolani's roots in masterfully guiding me through three days of meaningful and powerful meditation practices are disguised by her cheerful, open and westernized manner and personality. She brings an atmosphere of gentle confidence and openness that simultaneously relaxes the mind and heightens anticipation of the journey ahead. I cannot recommend her strongly enough.
Ken Wilson
Senior Advisor
6IX Passions"
2.
About a month ago, I studied meditation with Pooja Tolani from the Art of Living Foundation for three days. The experience was life changing.
I have been a long time, self-taught meditator. While I have in the past had success with a form of meditation called "hypnotic meditation", which I wrote about in my book, It's the Landing That Counts I am always looking to improve the quality of my experience and the effectiveness of my practice and how to achieve ever greater enlightenment.
I was referred to The Art of Living Foundation by a close and trusted friend. Before studying with Pooja I was only able to enjoy hypnotic meditation where my mind was actively engaged in changing behavior or a thought pattern by combining meditation and hypnosis, as explained in my book. It was only through my studies with Pooja that I learned and could appreciate the peace and euphoria that is possible when one is able to focus on one's breath to the exclusion of all thought for an extended period of time. It is life changing.
After I concluded my practice with Pooja I had clarity of thought and an alertness founded on a peaceful mind. I also experienced a heightened sense of my physicality without feeling agitated or restless.
I am eternally grateful to Pooja for teaching me this amazing practice. I recommend it to anyone who is looking for peace or focus or who is goal oriented and success driven. It is truly empowering.
Margot Micallef QC
President & Founder
Oliver Capital Partners Inc.